All courses and prices
Offering an experience is quite different from providing a service, because it requires not only knowledge, quality and organisation, but also a great amount of creativity.
So what are the experiences?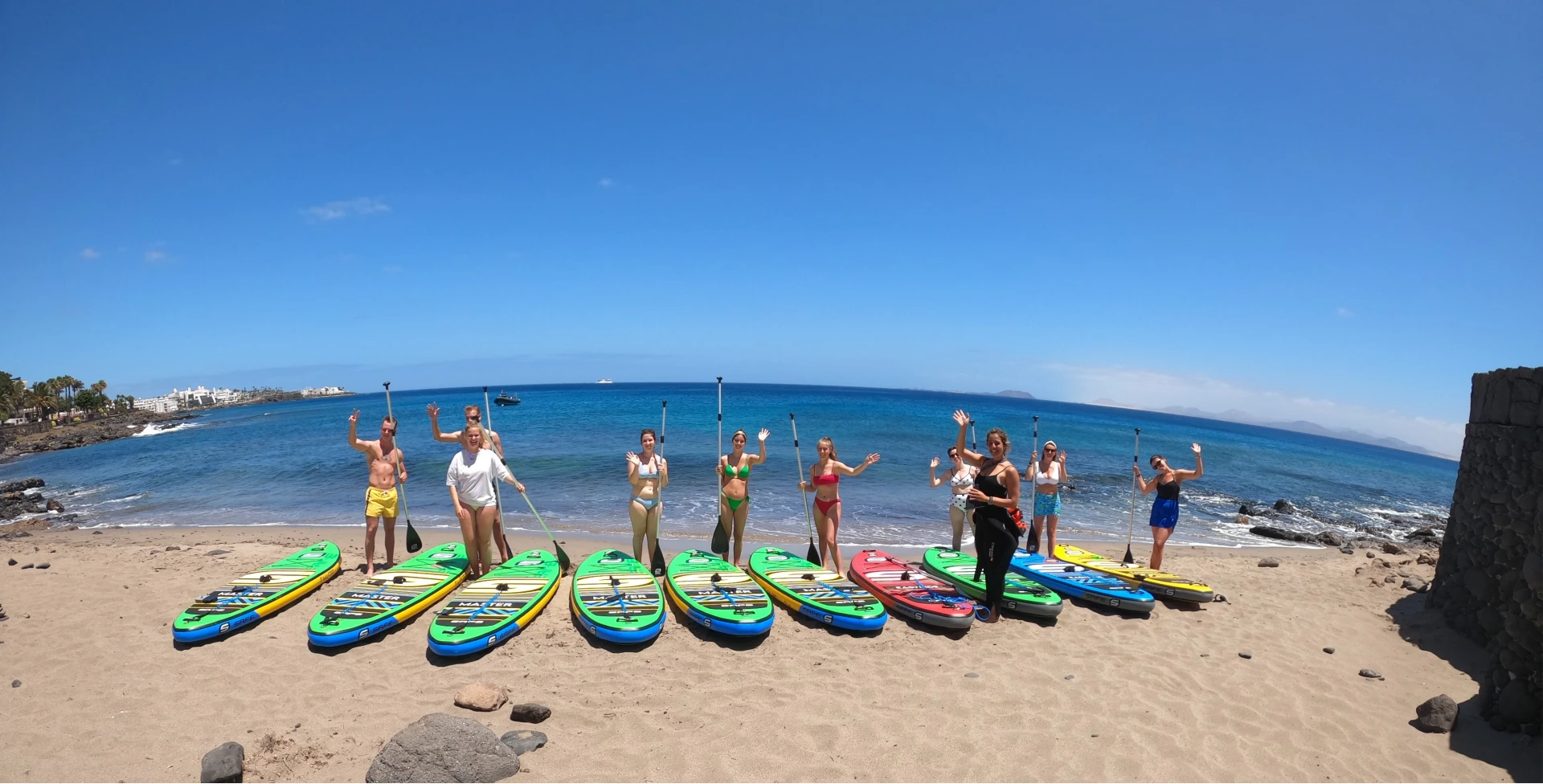 Among our top activities are the Tours, with which you can enjoy Lanzarote from an unprecedented point of view by following the coastline from the outside; Snorkeling, to observe the incredible variety of marine life that populates the island below the surface; Apnea, a way of discovering how many wonders you can see with just one breath; and Relaxation, which is the activity that most people need and which is not always so easy to enjoy to the full.
But that's not all, because there are also all the special activities that we offer from time to time with the collaboration of the ideas of our customers themselves when they tell us what they most want and need.
Curious to know a few more details? Just view our main activities and imagine how you want to spend your vacation in your own time.
Duration : 1 hour and half prox
Price : 40 euro per person
Min 2 people
This tour is ideal for those who have at least had an introductory lesson or are already familiar with the sport and want to improve their skills with a guide. The tour will take place between the Dive College dive centre and Playa Flamingo.
Stand Up Paddle lesson for beginners
Duration: an hour and half prox
Price : 40 euro per person
Min 2 people
If this is your first time on a stand up paddle board then you might like to take one of our introductory lessons. In this lesson you will learn how to prepare your equipment and take care of it, take your first steps on the board in an environment protected from waves and wind, practice getting up and paddling on the board efficiently, and identify and deal with possible hazards.
Sup tour Papagayo Beach, Playa Blanca
Duration : 3 hours
Price : 60 euro per person
Min 2 people
It is ideal for those who already practice this sport and want to explore the beautiful beaches of Papagayo, we can bring a mask and tube to explore the seabed and stop at one of its beaches for a snack or a drink.
Guided Snorkeling Experience
Duration: 1 hour and half 
Price : 35 euro per person
Min : 2 people
Suitable for those who are just starting to snorkel and discover the beauty of the Lanzarote seabed at one of the most famous dive sites in Playa Blanca with a guide who will show you the marine fauna and its variety. This program is also suitable for children from 6 years old.
Snorkeling with boat at the Museum Atlantico, Playa Blanca 
Duration : 2 hours aprox
Price : 42 euros per person
The museum atlantico is an underwater museum in Lanzarote created by Jason De Caires Taylor, known for creating artificial barrier reefs in different sites of the world. 
The guide will freedive and take photos during the excursions as well as explaining the meaning of the sculpture 
Duration : 1½ hours aprox
Price : 38 euros per person
If you are a lover of snorkelling sessions, you definitely can't miss this one! The marine fauna and the colours of the sea are completely different at sunset and create a breathtaking landscape. Our experienced guide will lead you through this totally new experience. Pre-requisites : you must have done some snorkelling sessions before.
Excursion to the wrecks of Puerto del Carmen
Duration : 3 hours aprox
Price : 45 euros per person
This trip is one of the most exciting and requires at least a first level of freediving plus some SUP skills. We will meet at the famous beach of Playa Chica and from there we will paddle to the wrecks of Puerto del Carmen where we will stop with our boards to relax before the dive. Non hai ancora fatto un primo livello di apnea? Not yet done a freediving first level? You can check out the
section Experience Freediving here.
Duration: 1 hour and half
Price: 45 euros per person.
One of the most romantic and unforgettable excursions we offer, where we will enjoy the sunset from our table while gently paddling on the sea. The time may change depending on the time of year.